"Here's To Us"
Freddie Lando and Caroline DelJuidice
About Us
Two Great Voices, One Memorable
Evening Of Entertainment
Freddie Lando
"The Golden Voice of The Bronx"
Freddie Lando has been delighting audiences with his talent and his octave range. He has performed In many local church choirs, and was honored to Sing The National Anthem at Shea Stadium, back in April of 1998. Fred was also featured as a guest singer on The Generoso Pope Float in New York's" Columbus Day Parade for two consecutive years.
Freddie was again honored to sing The National Anthem at the Commemoration of the 9/11 Memorial at Jacobi Hospital in the Bronx. He is known as an eclectic singer covering many genres from Oldies to Pop, Broadway to Opera
Freddie, along with his partner Caroline DelJuidice perform at numerous venues in the Little Italy
section of the Bronx, as well as venues in Long Island, Westchester County, and New Jersey.
Caroline DelJuidice
"Belmont's Own"
Caroline DelJuidice, affectionately known as "Belmonts Own" has always had a passion for singing and performing ever since she was a child. Born in the Little Italy section of the Bronx, she has never forgotten her roots and keeps her beginnings very close to her heart. Her voice is her gift and she truly believes that if you're given a gift you must share it with the world and always be thankful.
Caroline has sung in choirs, and has performed in various roles in Aquinas High School productions, but her most accomplished roles were Annie Oakley in "Annie Get Your Gun, and her absolut favorite Dolly Levi in "Hello Dolly"
She is also a member of of Our Lady of Mt Carmel, Bronx, Schola Cantorum.
Caroline loves to sing all types of music, Rock, Pop,Classics, Oldies, Broadway Showtunes and Classic Italian favorites.
Caroline and Freddie teamed up in 2017 and have been entertaining audiences ever since.
Together they create memorable evenings and events with their powerful talents, both individually, or when performing Duets.
HERE'S TO US IS AVAILABLE FOR SMALL PRIVATE PARTIES AS WELL AS LARGE CORPORATE EVENTS
Please contact us at 646-240-9021, or 914-424-6892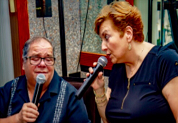 Two Big Voices
Join For a Great Night Live Entertainment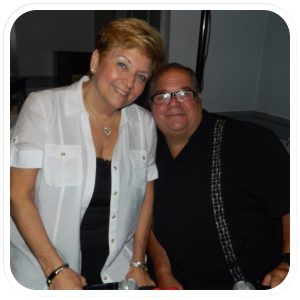 Available for Private Party's
Restaurant Venues
Singing Pop, Oldies, Motown, Disco, Italian, Opera, and Bway Tunes